"Estella Naturalnie" - perfect bedding for anyone who appreciates ecological and healthy solutions. Every night, going to bed, you will feel exceptionally comfortable, and after waking up - even better.
And it's all thanks to a completely new and exceptionally noble Soft-Cotton fabric, which will delight you with its softness and pleasant to the touch material.
The fabric is made of 100% organic cotton marked as Nm 70/1 , which means that 70 meters of yarn weighs only 1 gram.
Bedding made of this fabric is not only skin-friendly, but also perfectly regulates the temperature , which makes it perfect for warm days. With "Estella Naturalnie" you can enjoy exceptional sleep in comfortable and healthy conditions.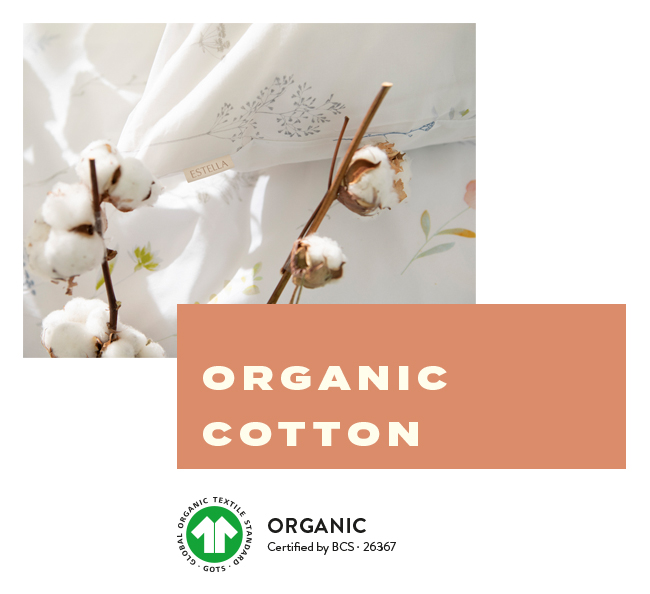 Leaving no room for boredom, Lhasa bedding offers an energetic décor. The plant's expressive color design with wide leaves and flowers combines the beauty of nature and refined elegance. All this is placed on a delicate cotton fabric that will ensure a comfortable sleep and a unique aesthetic experience. Thanks to Lhasa, your bedroom will gain a unique character.
ADVANTAGES OF ESTELLA BIO BEDDING:
Material: 100% Organic Cotton
Nm 70/1 - 70 meters of fine yarn weighs only 1g
Certified by the Global Organic Textile Standard, we guarantee a completely BIO production and supply chain. The organic cotton used comes from controlled organic farming.
Pilling- resistant material
Lifetime guarantee of the lock - we will replace the lock even after several years of use without additional fees, completely FREE!

It is breathable and adapts to the prevailing ambient temperature
Particularly pleasant and very skin-friendly
Can be tumble dried